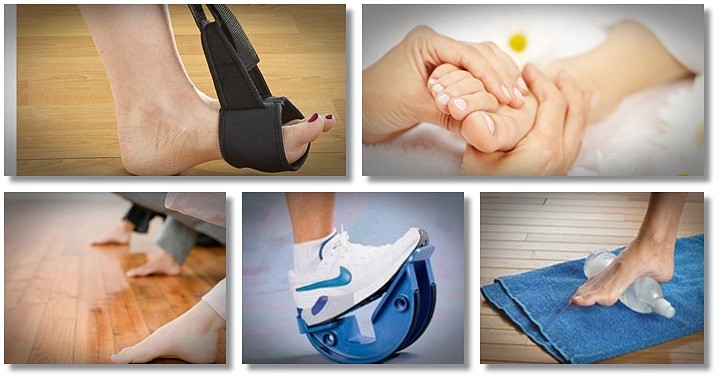 Overview
Plantar fasciitis causes pain in the bottom of the heel. The plantar fascia is a thin ligament that connects your heel to the front of your foot. It supports the arch in your foot and is important in helping you walk. Plantar fasciitis is one of the most common orthopedic complaints. Your plantar fascia ligaments experience a lot of wear and tear in your daily life. Normally, these ligaments act as shock absorbers, supporting the arch of the foot. Too much pressure on your feet can damage or tear the ligaments. The plantar fascia becomes inflamed, and the inflammation causes heel pain and stiffness.
Causes
Factors which may contribute to plantar fasciitis and heel spurs include a sudden increase in daily activities, increase in weight, or a change of shoes or allowing your current shoes to wear excessively. Shoes that are too flexible in the middle of the arch or shoes that bend before the toe joints will cause an increase in tension in the plantar fascia. Make sure your shoes are not excessively worn and that they do not bend in the "middle of the arch".
Symptoms
Among the symptoms for Plantar Fasciitis is pain usually felt on the underside of the heel, often most intense with the first steps after getting out of bed in the morning. It is commonly associated with long periods of weight bearing or sudden changes in weight bearing or activity. Plantar Fasciitis also called "policeman's heel" is presented by a sharp stabbing pain at the bottom or front of the heel bone. In most cases, heel pain is more severe following periods of inactivity when getting up and then subsides, turning into a dull ache.
Diagnosis
Your GP or podiatrist (a healthcare professional who specialises in foot care) may be able to diagnose the cause of your heel pain by asking about your symptoms and examining your heel and foot. You will usually only need further tests if you have additional symptoms that suggest the cause of your heel pain is not inflammation, such as numbness or a tingling sensation in your foot, this could be a sign of nerve damage in your feet and legs (peripheral neuropathy) your foot feels hot and you have a high temperature (fever) of 38C (100.4F) or above - these could be signs of a bone infection, you have stiffness and swelling in your heel, this could be a sign of arthritis. Possible further tests may include blood tests, X-rays - where small doses of radiation are used to detect problems with your bones and tissues, a magnetic resonance imaging (MRI) scan or ultrasound scan, which are more detailed scans.
Non Surgical Treatment
There are several things you can do to self-treat your heel or arch pain. The first thing is to wear better shoes and consider adding arch supports or custom foot orthotics to your shoes. Stretching the calf muscles can also often be helpful. Try to stretch when you first get up in the morning and before you go to bed at night. Another good exercise is to "roll" your arch and heel. This is done by placing a tennis ball, golf ball, or lacrosse ball on the floor and rolling your foot on top of it. Some people get extra benefit by "rolling" on a frozen water bottle. You should also carefully evaluate your fitness program as you may be overdoing it. You may want consider backing of new or recently added exercises or increases in training until your heel pain improves. If you work at a standing job try to take more time to walk around during the day and avoid standing in one place for too long.
Surgical Treatment
In cases that do not respond to any conservative treatment, surgical release of the plantar fascia may be considered. Plantar fasciotomy may be performed using open, endoscopic or radiofrequency lesioning techniques. Overall, the success rate of surgical release is 70 to 90 percent in patients with plantar fasciitis. Potential risk factors include flattening of the longitudinal arch and heel hypoesthesia as well as the potential complications associated with rupture of the plantar fascia and complications related to anesthesia.
Prevention
More than with most sports injuries, a little bit of prevention can go a long way toward keeping you free from plantar fasciitis. Here are some tips to follow. Wear supportive shoes that fit you well. When your shoes start to show wear and can no longer give your feet the support they need, it's time to get a new pair. Runners should stop using their old shoes after about 500 miles of use. Have a trained professional at a specialty running store help you find the right pair for your foot type, and then keep your shoes tied and snug when you wear them. Stay in good shape. By keeping your weight in check, you'll reduce the amount of stress on your feet. Stretch your calves and feet before you exercise or play a sport. Ask an athletic trainer or sports medicine specialist to show you some dynamic stretching exercises. Start any new activity or exercise slowly and increase the duration and intensity of the activity gradually. Don't go out and try to run 10 miles the first time you go for a jog. Build up to that level of exercise gradually. Talk to your doctor about getting heel pads, custom shoe inserts, or orthotics to put in your shoes. Foot supports can help cushion your feet and distribute your weight more evenly. This is especially true for people with high arches or flat feet. Your doctor will be able to tell you if shoe inserts and supports might lower your chances of heel injury.