Overview
The Achilles tendon is the largest tendon in the body. Tendons are long, tough cords of tissue that connect muscle to bone. The Achilles tendon is located in the back of the foot and connects your heel bone to your calf muscle. It helps you to walk, run and jump. The Achilles tendon is able to endure stress, but sometimes injury can occur to the tendon when overly stressed. Overuse of the Achilles tendon may cause the tendon to swell, become irritated, inflamed and cause pain. This is Achilles tendinitis. It is a common sports injury related to running, but can happen to anyone who puts a lot of stress on their feet (e.g.: basketball players and dancers). If you do not get treatment for Achilles tendinitis, the problem can become chronic and make it difficult for you to walk.
Causes
There are a number of causes and risk factors associated with Achilles Tendinitis. One of the most common causes is simply a lack of conditioning. If the tendon, and muscles that connect to the tendon, have not been trained or conditioned, this can lead to a weakness that may result in an Achilles injury. Overtraining is also associated with Achilles Tendinitis. Doing too much, too soon places excessive strain on the Achilles tendon and doesn't allow the tendon enough time to recovery properly. Over time small tears and general degeneration result in a weakening of the tendon, which leads to inflammation and pain. Other causes of Achilles injury include a lack of warming up and stretching. Wearing inadequate footwear, running or training on uneven ground, and simply standing on, or in something you're not meant to. Biomechanical problems such as high arched feet or flat feet can also lead to Achilles injuries.
Symptoms
Achilles tendinitis symptoms present as mild to severe pain or swelling near the ankle. The pain may lead to weakness and decreased mobility, symptoms that increase gradually while walking or running. Over time, the pain worsens, and stiffness in the tendon may be noted in the morning. Mild activity may provide relief. Physical exam may reveal an audible cracking sound when the Achilles tendon is palpated. The lower leg may exhibit weakness. A ruptured or torn Achilles tendon is severely painful and warrants immediate medical attention. The signs of a ruptured or torn Achilles tendon include. Acute, excruciating pain. Impaired mobility, unable to point the foot downward or walk on the toes. Weight bearing or walking on the affected side is not possible.
Diagnosis
Studies such as x-rays and MRIs are not usually needed to make the diagnosis of tendonitis. While they are not needed for diagnosis of tendonitis, x-rays may be performed to ensure there is no other problem, such as a fracture, that could be causing the symptoms of pain and swelling. X-rays may show evidence of swelling around the tendon. MRIs are also good tests identify swelling, and will show evidence of tendonitis. However, these tests are not usually needed to confirm the diagnosis; MRIs are usually only performed if there is a suspicion of another problem that could be causing the symptoms. Once the diagnosis of tendonitis is confirmed, the next step is to proceed with appropriate treatment. Treatment depends on the specific type of tendonitis. Once the specific diagnosis is confirmed, the appropriate treatment of tendonitis can be initiated.
Nonsurgical Treatment
Nonsurgical methods include rest and stop doing activities that cause stress to the tendon. Ice the area by applying ice to the tendon for 15 minutes after exercising. Compress the tendon by using an athletic wrap or surgical tape. Elevate your injury. You can reduce swelling by lying down and raising your foot at a level that is above your heart. Stretch your ankles and calf muscles. Take anti-inflammatory medication (e.g.: ibuprofen to reduce swelling). Wear orthotics and running shoes. Take part in physical therapy.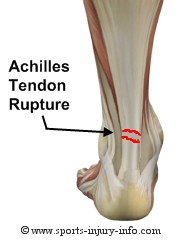 Surgical Treatment
Surgical treatment for tendons that fail to respond to conservative treatment can involve several procedures, all of which are designed to irritate the tendon and initiate a chemically mediated healing response. These procedures range from more simple procedures such as percutaneous tenotomy61 to open procedures and removal of tendon pathology. Percutaneous tenotomy resulted in 75% of patients reporting good or excellent results after 18 months. Open surgery for Achilles tendinopathy has shown that the outcomes are better for those tendons without a focal lesion compared with those with a focal area of tendinopathy.62 At 7 months after surgery, 67% had returned to physical activity, 88% from the no-lesion group and 50% from the group with a focal lesion.
Prevention
To prevent Achilles tendonitis or tendonosis from recurring after surgical or non-surgical treatment, the foot and ankle surgeon may recommend strengthening and stretching of the calf muscles through daily exercises. Wearing proper shoes for the foot type and activity is also important in preventing recurrence of the condition.